You and your partner deserve a pair of wedding sets as extraordinary as the love you share. For a stylist who embodies the perfect combination of classic and exclusive style, Carlex is just for you.
One of our favourite designers for the spring 2021 wedding season should be Carlex; different bold brands are what we can not recommend enough. Eternal, elegant and irresistible, their work is the stuff of dreams.
If you are looking for a wedding band with the longevity of heritage and the vitality of contemporary style, you will find everything you need in our Carlex collection.
Brand with all
Carlex is one of those designers who seemingly can do no wrong. Their offerings all carry with them an evident sense of rich importance. This may have something to do with their exclusive production process - it takes almost a week to create any of their parts. The technique is hardly the only visible attribute that characterizes the rings they produce - however, the most appealing aspect of their work should be the look they capture with each.
Carlex wedding bands are ultimately luxurious; they are exactly what one would expect to find on the fingers of the rich and famous. The aesthetic standard each piece holds up to surpass everything you can generically find in a store - every ring feels really handmade to you.
Carlex Wedding Bands at WatchFinder
The selection of Carlex wedding bands in our catalogue for both ladies and women has a lot to offer even the most select couple; this has a lot to do with the wide range of styles that cover the collections they produce.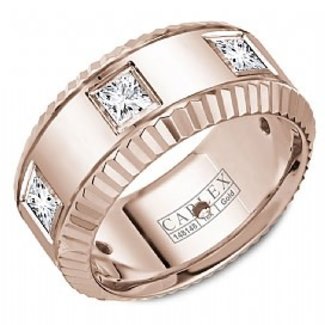 The G1 series is the height of excessive extravagance. The blingy wedding bands that can be found here are beyond comparison.
The industrial look of wedding bands from their G2 collection gives a mechanical edge to the presented pieces, the perfect humble accent to a gentleman with a taste for unpretentious embellishments.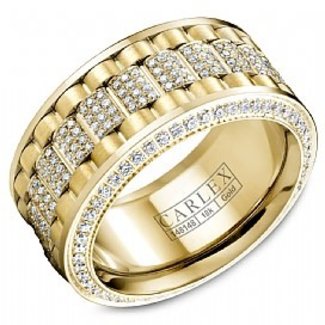 Carlex G3 wedding bands are the ultimate declaration of power for the woman in charge. They are feminine with no soft spots usually associated with women's wedding rings.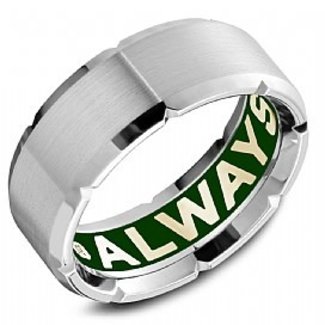 The Carlex G4 series is a graphic deviation from the rest of their products - their deceptively naked outer bands are clad in bold hidden messages, giving meaning without being so conspicuous. You can even personalize it with your anniversary.
Finally, we present the Carlex Sport collection, one of the most attractive we sell in WatchFinder. Many of these intriguing wedding bands display gorgeous black cobalt, contrasting with more traditional precious metals by adding their own patterns.
Buy Carlex and more with the help of our bridal jewelry experts
The classic Carlex wedding rings featured in this article barely scratch the surface - there is so much more to come from these, and we will be happy to share the rest for those looking for more.
The fact of the matter is, we are just as excited about your wedding as you are.