While the Audemars Piguet Royal Oak was invented in 1972, the most daring Royal Oak Offshore was first seen 21 years later in 1993. The 42 mm offshore was created by Emmanuel Gueit. Stephen Urquhart, then the manager of Audemars Piguet and later CEO of Omega, asked Gueit to come up with something special for Royal Oak's 20th anniversary.
Not everyone was happy with the grand and bold design of Royal Oak Offshore, but in 1993 it was finally introduced to the public. Although many Royal Oak fans were horrified by this extreme new design, it created a whole new audience for the AP. It attracted people who wanted to shine a more extravagant watch than the modest Royal Oak that probably had a lot of 1970s feel.
The Same Yet Different
In 2004, you could say that Hublot was thrown into the Royal Oak gang. As the fame and reputation of the great sports watch from Le Brassus grew, it was difficult for the manufacturer to keep up with demand. Hublot took the opportunity and decided it was time to debut their collection as well, introducing the Big Bang 11 years after the AP debuted at Royal Oak. And a big bang was. Certainly inspired by Genta Royal Oak and Gueit's Offshore, the Big Bang caused quite a stir.
Hublot took the design and use of materials to the next level, using bright colors, unusual materials and making sure that each model was only available as a limited edition. It worked. Hublot's Big Bang is favored by many "new money" clients like football players, rappers, and real estate brokers who have recently made a small fortune.
However, both Audemars Piguet and Hublot seem to be going well with their respective collections. You can even call them bread and butter. Interestingly enough, the Royal Oak Offshore has become even bolder and more vibrant since the release of the Big Bang. In some ways, they seem to even push each other. While Hublot fanatics will say the Royal Oak Offshore is a boring thing, Audemars Piguet lovers will accuse Hublot of being a fashion watch.
Simply put, Royal Oak Offshore and Big Bang watches are rivals like Apple and Windows or BMW and Audi: You either love one and hate the other or hate both.
Despite everything, Audemars Piguet clearly has shown braveness with their Royal Oak Offshore models over the past few years. At the same time, Hublot has demonstrated their watch ability with their Unico movement and interesting use of materials.
Both brands have a wide variety of watch complications, including chronographs, permanent calendars, and turbines. Yet, chronograph models are simply in the highest request. Interestingly, many 42 mm mm Royal Oak Offshore chronographs have a bolder design than the Big Bang 44 mm chronograph, for example.
Royal Oak Offshore Chronograph 42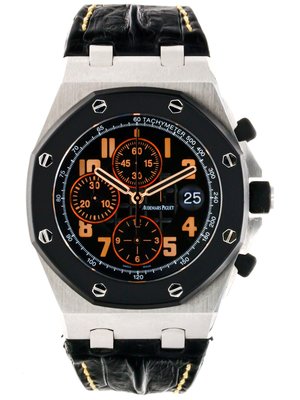 Royal Oak Offshore is available in gold or stainless steel, with or without diamonds. It also comes as a chronograph with numbers dialed at 6, 9, and 12 and a date display at 3. Royal Oak Offshore features a Cyclops reverse lens, placing it closer to the date display in basic motion. The chronograph module has been added above.
Audemars Piguet manages to keep requests for their watches high by limiting (yes, you read that right) production to 40,000 watches in a year.
Chronograph Big Bang 44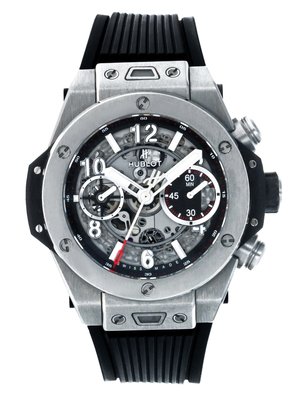 The Big Bang Chronograph is also available in a number of colors and materials, though it is softer than both models. It comes with a dark blue or black dial and a similar strap made of rubber or alligator leather. There are also several versions filled with gold and diamonds. The Hublot Big Bang 44 has a more classic chronograph layout, with sub-numbers at 3, 6, and 9.
This watch does not include Unico internal movement; instead, it is powered by the HUB4100 caliber, based on ETA 2892-A2 with a chronograph module above. While Audemars Piguet offers the ceramic case frame with their 42 mm offshore Chronograph models, Hublot is able to offer a full ceramic model with a carbon fiber dial and a rubber strap.
Conclusions
In the end, we can say that these two models from Audemars Piguet and Hublot have both similar things. If this happens to be your style, it's your lucky day, as each brand offers a variety of models to choose from. There is no right or wrong: it is simply a matter of which brand and watch attract the most to you. Audemars Piguet is a little better known for its exterior fashion types and mechanical engineering. Hublot, on the other hand, ensures that your watch does not go unnoticed. The question 'Who was the first?' Really matters just to watch nerds.