A luxury watch is a statement piece. Wearing a brand with acclaimed recognition, in part, also makes a statement about who you are. However, watches can be more than just accessories. The right timepiece can be a worthwhile investment. The worth of certain brands increases over time, doubling — and even tripling — the value of limited edition and specialty models, making them the best pieces to add to your collection.
Buying the perfect watch can be a complex endeavour, but knowing which among the thousands of luxurious timepieces produced every year will likely increase in value is even trickier. 
Here's a list of luxury watch brands that have been known to hold their value: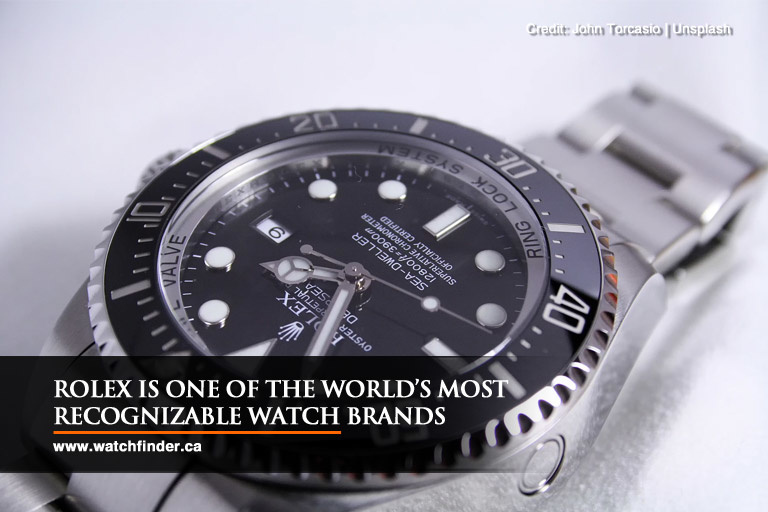 Rolex is one of the most recognizable and valuable watch brands in the world. This Swiss watchmaker was founded in London in 1905 by Hands Wilsdorf and Alfred Davis (It moved to Switzerland in 1919). By far, Rolex has been considered the standard of top-notch watch manufacturing. In 2020, Forbes ranked it 80th among the world's most valuable brands.
Rolex is known for its pioneering technologies, bold designs, and exquisite quality. Each piece is carefully handcrafted by artisans, taking almost a year to complete. Many of its models appreciate after 5 years, while some do so faster than others. Its most popular sports models include Daytona, Explorer, and Submariner. In a 2018 auction, a rare Submariner 5513 fetched nearly GBP 80,000 (CAD 140,000).    
Founded in 1875 by Jules Louis Audemars and Edward Auguste Piguet, Audemars Piguet made its name as one of the most innovative watchmakers in the world and the best to collect for investment. Some of its achievements include creating the first minute-repeating movement for wristwatches in 1892, the first skeleton watch in 1934, and some of the thinnest watches in the world, like the 1986 ultra-thinnest automatic tourbillon.
Like Rolex, Audemars Piguet watches can increase in value within 5 years, making them one of the best watches to invest in this year. Its Royal Oak's 3120 calibre movement is best-known as one of the most reliable movements ever created. A Rare 2005 semi-skeletonized tourbillon Royal Oak was sold for about USD 137,500 (CAD 172,000) at an auction.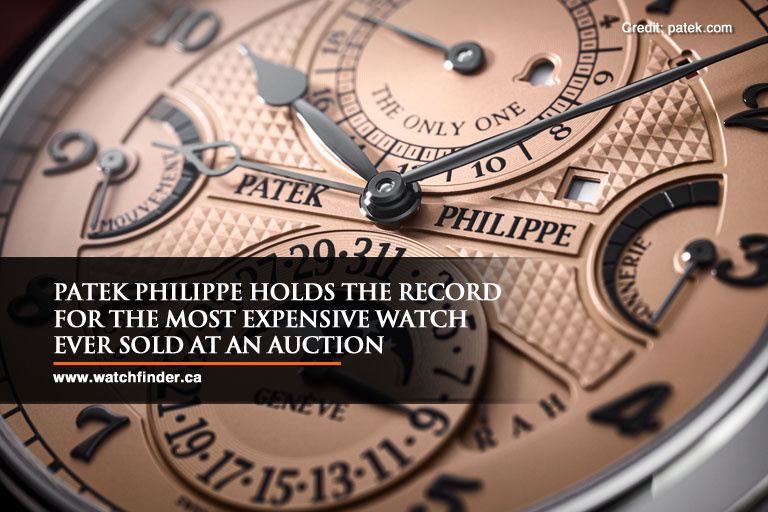 Patek Philippe is famous for its classic style, impeccable design, and unmatched quality. Many watch connoisseurs and collectors view Patek Philippe as one of the best watches to invest in. The brand's Grandmaster Chime model currently holds the record for the most expensive watch sold at an auction at USD 31.19 million (CAD 39.25 million). 
Fortunately, you don't have to spend that much to get your hands on one of these timepieces. With its brand recognition and reputation, any of its standard watches appreciate over time. Its vintage models continue to be popular among connoisseurs and collectors.  
Patek Philippe has each of its watch's history recorded in the brand's archives, allowing you to reference the authenticity of your piece. A quick search can show you the exact manufacturing date and where it was sold. It can also reveal the name of buyers for vintage watches.  
Vacheron Constantin was founded in 1755, making it the world's oldest watch manufacturer in continuous production, and just among the reasons why it is the best watch brand to invest in. The brand is known for its design, workmanship, and legacy. Its vintage models always demand high prices.  
A Vacheron Constantin watch is often compared with Patek Philippe in both design and quality. New collectors who favour the better-known Patek watches often overlook the brand, but this means prices for vintage Vacheron Constantin pieces are often lower compared to the similar-quality Patek Philippe. This makes it another good reason to invest in this brand this year.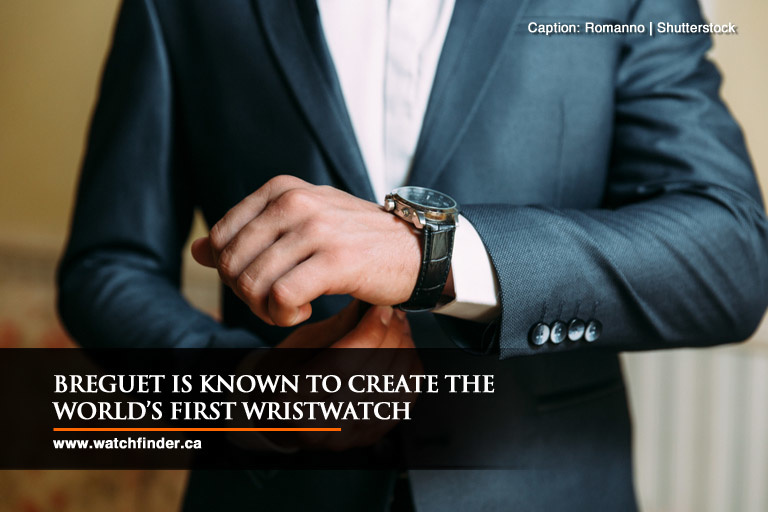 Breguet was founded by Abraham-Louis Breguet in 1775 in Paris. It is credited for making the world's first wristwatch in 1810, the Breguet No. 2639 for Caroline Bonaparte, Queen of Naples. Some of its most famous customers included Louis XVI and Queen Marie Antoinette. Today, the company is a subsidiary of the Swiss Swatch Group, although it remains true to its founder's design principles and innovations.
Breguet watches are instantly recognizable for their pomme hands and giolloché dials. As with Vacheron Constantin, the brand is often overlooked by newer collectors who go for more known brands. Yet, Breguet holds a special place with connoisseurs who are willing to shell out large amounts for rare and interesting pieces. 
Founded by Antoine LeCoultre in 1833, Jaeger-LeCoultre is one of the most innovative watchmakers in the market, holding hundreds of patents including the world's smallest calibre and a near-perpetual movement. Today, it receives worldwide acclaim alongside top brands such as Patek Philippe, Audemars Piguet, and Breguet.
There are many popular models from Jaeger-LeCoultre, such as Reverso, Memovox, and Ultra-thin Moon Watch. For better and guaranteed investment, you should always opt for the classic models. A limited-edition Reverso watch beat auction estimates with a pink gold piece selling for USD 15,150 (CAD 19,000), which was worth twice the initial estimates.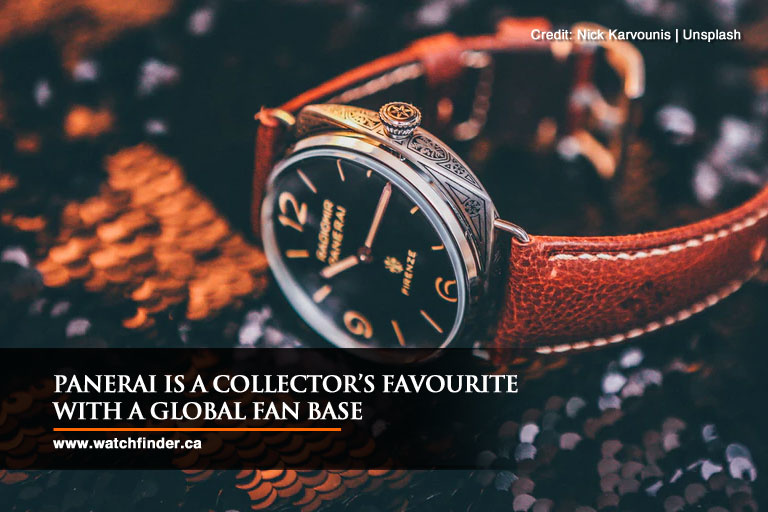 Panerai is an Italian manufacturer named after founder Giovanni Panerai who opened his first shop in 1860. Panerai watches have been a collector's favourite in recent years, thanks to their unusual cushion-shaped cases and reliable movements. All their watches are limited edition, which means every one of them will become a collectible at some point. 
Apart from its limited-edition numbers, exclusivity, and brand history, Panerai is also known for its fan base called Paneristi. This passionate collector base maintains the buzz and demand for the brand, influencing its current and future value. 
Founded in 1999, Richard Mille has made a name for itself against traditional watchmakers with years of lineage. The brand is renowned for its unique and innovative watches, and it has attracted clients with the likes of Rafael Nadal, Jackie Chan, and Natalie Portman.
Despite being a relatively modern entry, Richard Mille's distinctive and innovative cases, combined with exceptional engineering of the movements make it a force to be reckoned with in the watch industry. Its watches are easily recognizable for their tonneau-shaped cases, often skeletonized to display its superb detail of the movement encased inside. 
What makes Richard Mille watches valuable is that every single piece is a part of a limited collection. The more limited the number, the more valuable the watch is. Richard Mille's RM52 Tourbillon Skull Asia Edition only had 6 made and was sold at an auction for GBP 346,000 (CAD 600,000) in 2015. If that watch were to be sold today, it would be over GBP 500,000 (CAD 865,000). 
Another watch brand that remains as valuable this 2021 is A. Lange & Sohne. Founded in 1845 by Ferdinand Adolph Lange, the brand is regarded as one of the finest watchmakers in the world. As a German company, their watches take a more traditional Glashütte style, a look appealing to many collectors.
As in many luxury watches, limited editions often retain the best value. When choosing A. Lange & Sohne, go for its limited-edition Chronographs. The best-priced watch from the brand was the elegant 1815 "Homage to Walter Lange" for USD 825,525 (approximately CAD 1 million).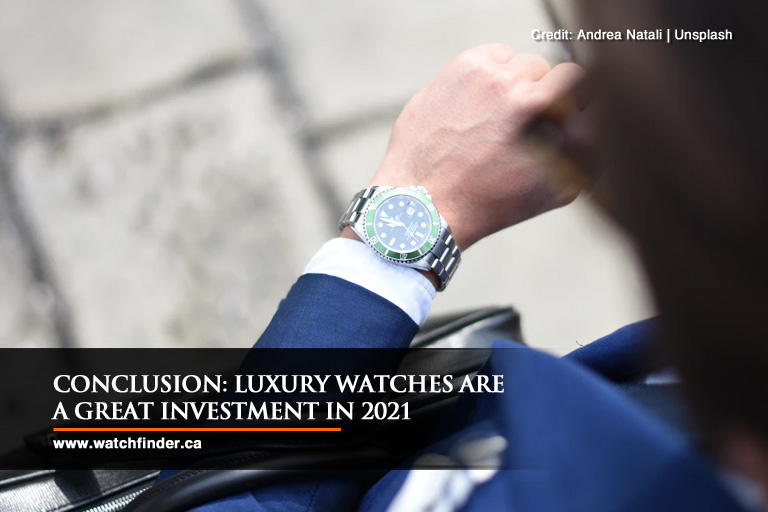 While collecting timepieces may seem like a lucrative investment, it also its risks. The range of options available in 2021 is vast and covers a spectrum of aesthetics, quality, and price. If you're just starting out, you don't have zero in on the most expensive models first. Opt for more affordable watches that hold their value instead. However, be absolutely sure to select only quality models from a renowned company. If you plan carefully and exercise patience, it will be well worth your while.
To get the best value for luxury watch brands, make your purchase only from a trusted source. Watchfinder Canada has over 15 years of experience providing contemporary and vintage timepieces. Call us now at (416) 928-0128 or browse our online catalogue to find the timepiece that's just for you.